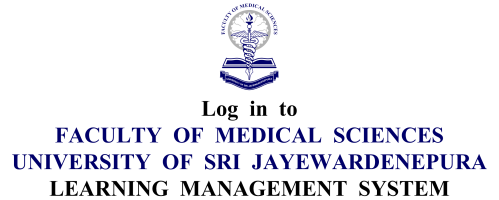 Log in to Faculty of Medical Sciences, University of Sri Jayewardenepura
Is this your first time here?
If you have login problem please contact site administrator.

E mail : dnuwan@sjp.ac.lk

To Students:
Every student is hereby requested NOT to republish materials available in the LMS anywhere. Publication of these materials will be considered as a violation of copyright, for which legal action will be taken.
To Staff:
The LMS should be used to distribute materials you own or you have a license to use. Software Applications, Books, Videos, etc. should have the proper license to distribute through the LMS.
Administrator/LMS